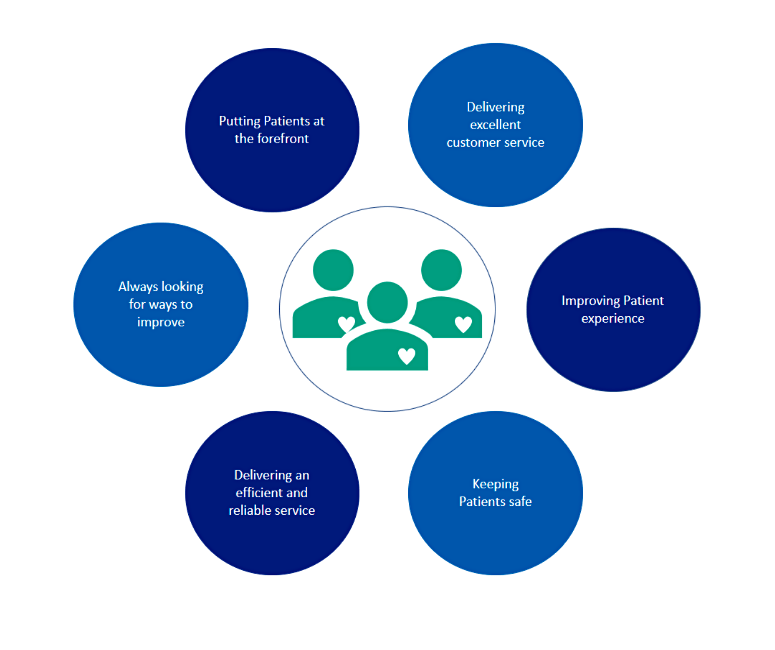 The Operations Team is comprised of our Director and Associate Director for Service Delivery and:
The Patient Care Team,
The Implementation Team,
The Clinical Quality Administration Team and;
The Service Management Team.
Operational management in healthcare refers to overseeing the day-to-day practices of a healthcare service that impact the client experience and organisational goals.
The Operations Team provides day to day operational management for our clients delivering a range of outcomes, ensure that care is delivered in a safe and effective way and that all performance targets are met within specified resources and in addition supports with the onboarding of new clients through implementation into business as usual. Managing patients throughout the course of their pathway ensuring patients receive equitable, safe, high quality care managing each step of their care, ensuring that our patients and clients' experiences of the Medefer pathway is the best it can be.
The Patient Care Team (PCT) is the largest single team within Medefer and are here to support our patients from the point they are referred to our service to discharge. We support the delivery of a safe and reliable service, ensuring every patient's care progresses as expected. We use our own technology to track pathways and gather data to continuously measure and monitor service delivery. The types of tasks the team carry out are; deliver excellent customer service via phone, email and chat, process results and referrals, liaise with clinicians, escalate system bugs.
The Implementation Team has the exciting role of managing new service contracts into business as usual. By working cross functionally, we are constantly working with different people, adapting our plans and always learning about new pathways in the hospital. Team members are expected to coordinator with numerous of stakeholders, participate in key discussions about the pathway, and use their project management skills to ensure a safe delivery in timely manner
The Clinical Quality Administration Team is formed from a group of specialty registrars who support our clinicians to ensure that the diagnostic and clinical management process are executed accordingly. We manage the safe and effective quality assurance of the clinical and administrative processes of the patients referred to our service. We also help and support the PCT with any clinical queries that arise.
The Service Management Team provide day to day operational management for our clients, providing expertise, advice and guidance to improve services by anticipating needs, planning and implementing change according to service delivery plans and objectives, and changing health care needs, ensuring the provision of operational resilience and efficiency. The team monitor and review patient pathways identifying pathway delays delivering service improvements to streamline pathways, proactively finding resolutions to improve pathways and support timely clinical decision making. The team are also the client facing operational lead through business as usual.